Central region Tour
Along the Mekong to Luang Prabang, the Plain of Jars and encounters with elephants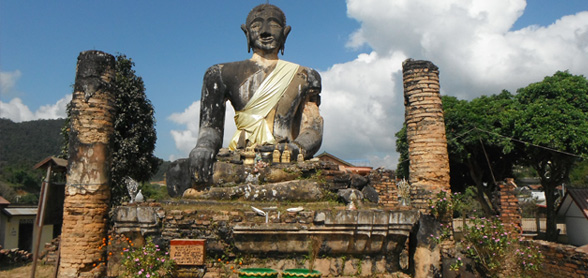 First day starts with a "Baci", a Lao traditional Buddhist blessing ceremony for the tour participants at Papaya Spa. After that, we are off due west along the Mekong to discover the kingdom of the elephant in the province of Sayaboury on the border with Thailand.
The trail will take you through primal forests and through jungle, along mountainous riding paths and remote Hmong villages and never far away, the Mekong.
You will then descend the peaks of the North towards Luang Prabang, Laos' ancient royal capital and an UNESCO World Heritage site, for a comfortable stop-over. Incredible place, so Zen attitude with its hundreds of temples, old French style colonial mansions and delicious Lao food and the splendid Mekong river…
It's time to start riding again for a nice home stay at our friend's place, little village on the banks of the Nam Khan river. Mountainous trails all along to reach the magic Plain of Jars…
Heading South towards Paksan on the Mekong banks before entering the Phou Kao Kwai National Park with its beautiful dirt trails though the fragrant pine trees bordering the lake. Vientiane is just down below for a nice deserved massage at Papaya Spa.