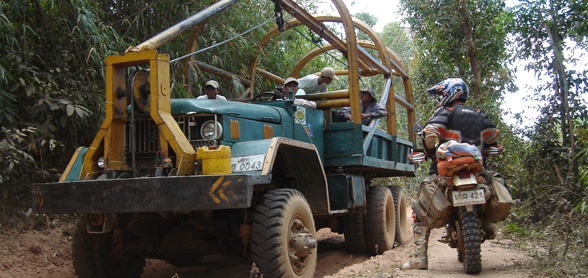 In Laos, everything starts with a "Baci", a Lao traditional blessing ceremony of the tour participants by Buddhist monks at Papaya Spa.We then head due East, entering the Phou Khao Kwai National Park with its waterfalls and winding mountain paths, in the heart of the Hmong minority.
The tour will take us along the Vietnamese border where the Ho Chi Minh trail starts on the 17th parallel. The remains of the Vietnam War are still evident everywhere: giant bomb craters turned into fish ponds, carcasses of all types of vehicles littered along the trail and a myriad of trails and paths and incredible river crossings.
We then traverse the Boloven plateau and its coffee plantations to explore Champasak province. Home to the great waterfalls of Khonpapaeng and the pre Angkor-era temple of Wat Phou, this province is situated on the border with the Kingdom of Cambodia and Vietnam.
After a rest on the Mekong banks, we join the mysterious "Route 23", the most famous Ho Chi Minh trail with its bombed bridges still standing. It's time to ride towards Thakhek in the north along the Mekong.
We then go through the Phou Khao Kwai National Park on beautiful dirt tracks, where we make our last stop-over before heading back to Vientiane where a well deserved massage awaits.